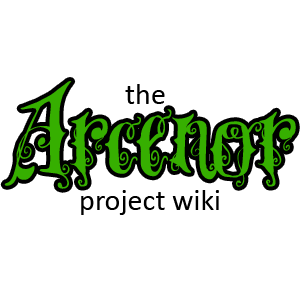 Welcome to the Arcenor Project, a subsidiary of the Fusion Forums, and a fantasy world for all Fusion community members to explore and create!
The Arcenor Project is a user-created setting to use on the Fusion Forums, a general gaming community. The intent of the project was to develop an entirely community-created world that would develop and evolve as articles to this wiki were added. The Arcenor project was initiated by admins Crysta and Greth, when debating on how to develop a new setting for an PC RPG video game Crysta had planned on starting. That is when Greth proposed an entirely user created world history of a fictional world, developed by the entire community, and provided for everyone on a wiki; this concept of setting development was inspired by The Elemenstor Saga wiki started by Jerry "Tycho" Holkins. As ideas were being pitched, forum member Sentenal pitched the name Arcenor, and it has stuck ever since. The idea was expanded to include different eras, or "ages" within Arcenor, so that a larger variety of settings in the different types of fantasy genres could be added, contributed and embellished upon, from the warring god Unwritten Age, to the sword and sworcery Grand Age, to the space operatic Galactic Age.
The world of Arcenor grows only by the volume of articles submitted to this wiki. The world will be used as a source and backdrop for, hopefully, many community driven games, dice based rpgs, projects, and ideas to come.
Community content is available under
CC-BY-SA
unless otherwise noted.